Crafting Distinct Violins to Help You Level Up Your Unique Artistry & Become Even More Inspiring​
What Makes Badiarov Violins Unique 
Many skilled violinists strive to discover a distinct sound. Violin maker Dmitry Badiarov draws inspiration from the cultural heritage of old masters' acoustic knowledge, crafting original work to help you can uncover your distinct sound.
Violin Maker Dmitry Badiarov crafts your violin with millennia-old culture and the acoustic mastery of old masters, tailoring its sound to you so you stand out and sound unmistakably you.
Violin Maker Dmitry Badiarov crafts your violin to fit your body, so you play in harmony and enjoy a lifelong music career without the pain of common occupational health hazards.
Violin Maker Dmitry Badiarov crafts your violin ensuring you get great value for money with a high-quality instrument early on, empowering you to realize your potential from the start.
I craft your violin and enhance your journey with our exclusive program so you can make music, money, and lead a life that brings you even more joy. Even if you don't have an agent.
Exceptional Baroque & Modern Violins
Badiarov Violins & Clients
Violin Maker with Decades of Musical Experience Speaks Music. Violinists Will Love Feeling Understood & Supported.
The Personally Crafted For You Early Baroque Violin
Many Baroque violinists, with a focus on Early Baroque music, feel that late Baroque violins do not align with the stylistic nuances of the era. To help these violin players, I created my Early Baroque violin so they can sound stylistically coherent, enrich their performances with breathtaking improvisations, and feel in flow when they are on stage.
When we get on the call, we will discuss:
A violin that reflects the essence and spirit of the rich musical epoch you want to focus on.
A violin capable of resonating freely with plain-gut strings at extremely high or extremely low pitches.
A violin that can blend with cornettos, trombones, and organs, cutting through strongly when playing at huge venues such as churches. Schedule a call, and we will make it happen by design. Or you pay nothing. 
The Custom-Made Baroque Violins
Today, many Baroque violinists focus on the late 17th and 18th centuries, grappling with the challenge of affording multiple instruments for different periods. To address this, I've developed a unique High Baroque model, allowing you to achieve a rich and reliable sound from 382Hz to 465Hz, regardless of your choice of strings, so you can enhance your results and foster continual artistic growth.
When we get on the call we will:
Explore your concerns about your current instrument and discuss your preferences for the new one.
Identify your core repertoire and artistic goals.
Address budget considerations to ensure they align with your preferences and goals.
We'll outline the exact process for crafting the violin that is the right fit for you (or you pay nothing).  
The Personally Crafted For You Romantic or Modern Violin
Describing the ideal sound can be an immense challenge for many violinists. Drawing from my experience as a former professional violinist, I possess a deep understanding and a unique process that allows me to create a modern violin tailored to your preferences. So, you can acquire an instrument comparable to 6-7 figure antiques, stand out from the crowd and concentrate on advancing your career and life.
When we get on the call:
We'll discuss your sound preferences and goals in depth.
We'll talk about what's currently missing in your instrument.
We'll outline the exact process for crafting the violin that is the right fit for you—or you pay nothing. 
Exceptional Instruments and Honest, Holistic Approach
After four decades in music, I've discovered that even top-talent violin, viola, and cello players could achieve even greater success. They possess brilliant technique, musicianship, degrees from prestigious music colleges, have produced albums, won competitions, and sent out countless proposals, only to find that there are more musicians than promoters and concert organizations can accommodate. To support musicians in achieving success intentionally, I've developed my specialized program, known as The Professional A.R.T.I.S.T. Pathway. This program reveals proven strategies that can help any musician unlock greater success. These strategies are also detailed in my books on Da Spalla and On Fine Violin Making.
At Badiarov Violins, we stand as a unique place where a holistic approach to music, life, and luthiery is curated by an author, luthier, and musician, all for musicians. Drawing from decades of professional experience and collaboration with leading musicians, expert marketers and mentors since 2016, we provide this unique service. The training is available in easily consumable pre-recorded formats, live presentations, and Keynotes, both in person and online. Let's have a conversation! Schedule a call and embark on the journey to transform your music career, or that of your students. With the right instrument and powerful strategies, you can build a lasting career in music that your family and friends will admire.
Three Stories Behind Our Distinct Violins: Mesmerize Your Audiences & Inspire Your Colleagues If You Want, Before You Even Upgrade Your Instrument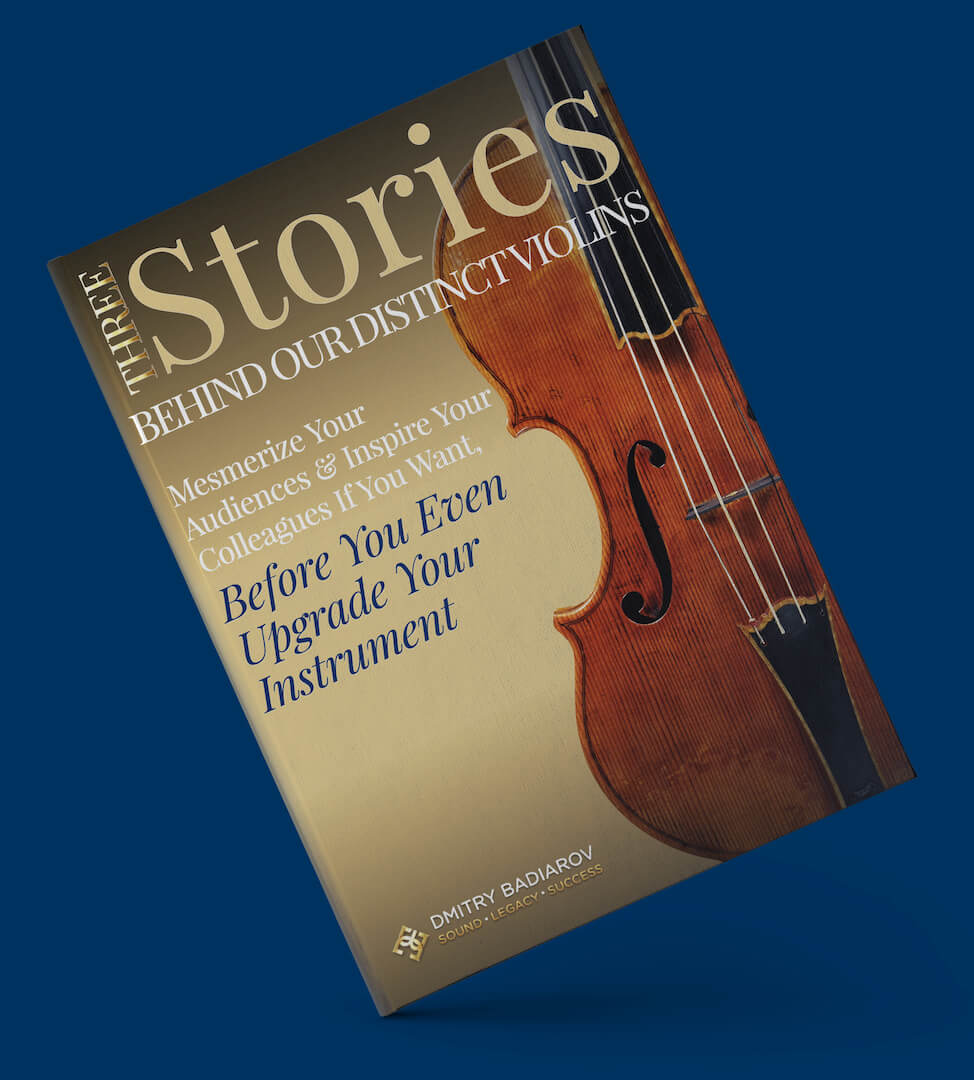 by Violin Maker & Author Dmitry Badiarov